The History of Our Family
Born in the foothills of the North Georgia mountains, Charles McClure was the eldest of three children. He was raised with a strong work ethic and a strong Christian faith. These two attributes served him well over his lifetime, probably beginning around the time his father died and Charles was only sixteen years old. He graduated from North Georgia College (now North Georgia State University) in Dahlonega, GA and attended Georgia Evening College in Atlanta. He then graduated from the University of Georgia with a Bachelor of Arts degree in Journalism.
During World War II, he entered the Army Air Corps. and graduated as a Second Lieutenant. As a pilot, he flew over 49 combat missions and developed new techniques in glide bombing. He was also a cadet flight instructor. Upon his return, he lived in Athens, GA where he entered the Air Force Reserves. He became an owner of WRFC-AM and a founder of the Athens Daily News and thus launched his broadcasting career.
He met his wife Dorothy Ann Watson in Athens. She grew up in Jacksonville Beach, FL and attended UGA graduating with a Bachelor of Fine Arts in Theater. She too had been raised with a strong Christian faith and a desire to help others. Together as a young couple, they gathered clothing and other articles and held a flea market on Saturdays for those less fortunate, usually giving away more than they sold.
In 1953 Charles and Dot moved their young family (a daughter and a son) to Columbus, GA where he established McClure Broadcasting as well as Cherokee Broadcasting in Canton, GA. These stations became a network of several radio stations across the Southeast as well as a television station in Columbus. They also added another son to their family in 1955.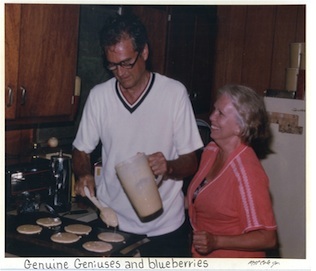 Dot and Charles jumped right into becoming a part of their adopted city. Dot became involved with the Columbus Little Theater performing on stage as well as teaching drama classes to young aspiring students. She became the "cheerleader" and driving force behind the efforts to save the old Springer Opera House (built in 1871) from the wrecking ball. The renovation was completed in 1965 and later became the State Theater of Georgia. Both Charles and Dot served on the board of Trustees for the Springer for over 40 years. In time, the Springer Children's Academy was established in her name.
Because his mother was an educator, Charles was always a strong proponent of higher education. He vigorously supported North Georgia State University where he established a competitive shooting program and served on its Board of Trustees. He was elected to the Georgia Association of Broadcasters' Hall of Fame at the University of Georgia and also established a School of Journalism scholarship there. He served on the Board of Trustees at Columbus State University for many years and also supported Reinhardt University in Waleska, Ga - near his hometown of Canton - where he established a scholarship in his parents' names.
As their love of Columbus grew, so did their leadership and community involvement. They were part of the "Columbus Challenge", a $100 million challenge of public and private partnerships which became the largest successful community campaign in the state of Georgia in 1997.
Because of their strong conservative beliefs in God, country and community, Charles and Dot McClure decided to establish a foundation that would serve others long after they were gone. They have entrusted their children, grandchildren and heirs to continue their legacy that others might be helped through their efforts and small beginnings.